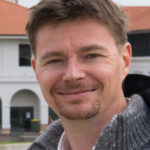 Senior Lecturer, School of Built Environment
Massey University
My area of expertise is focused on the interface of the Building Technology and Public Health. I have been leading a few intervention studies where we investigated the relationship between domestic heaters, ventilation, and the level of pollutants (mould, bacteria, chemicals, and moisture) in homes and in classrooms. These studies had a strong sympathy for vulnerable communities with low income, Māori and Pasifika communities being particularly at risk through a higher burden of disease.
In collaboration with NIWA, BRANZ and industry, we have developed the SKOMOBO project (SKOol MOnitoring BOx), a low-cost monitoring platform for indoor environment monitoring. Recently, we started to investigate the performance of solar ventilation system for school environment.
&nbsp
Research interests
Indoor Air Quality;
Ventilation;
Wellbeing;
Low-cost monitoring/IoT;
School environment.